The delayed justice: Hsieh Chih-Hung case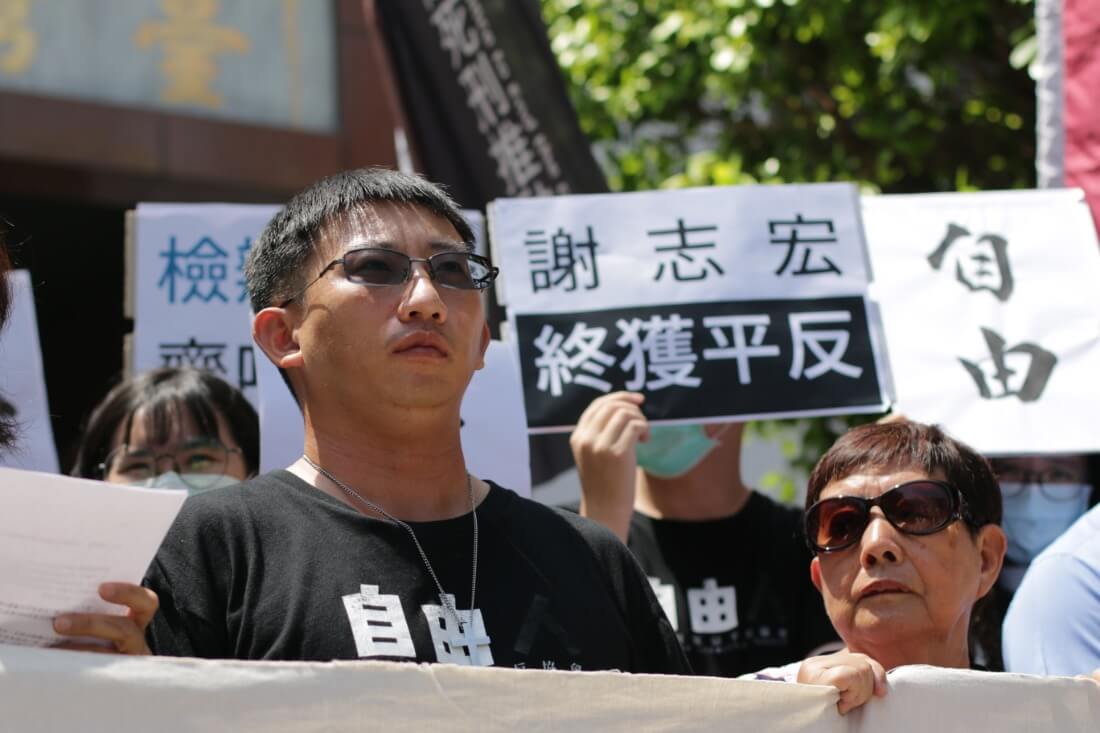 (The newest death-row exoneration in Taiwan, Hsieh Chih-Hung)
By Huang Shih-ching (Lawyer)
The delayed justice
In 2018, there was significant progress in the Hsieh Chih-Hung case. On July 11, the The Control Yuan filed a criminal special relief procedure to raise five questions in this case. Prosecutor Lin Zhi-feng of the Tainan Branch, Taiwan  High Prosecutors Office then restarted the investigation.
Prosecutor Lin discovered some new materials that the police who dealt with this case before did not unveil them to the court. Those new materials included Hsieh Chih-Hung 's handwritten whereabouts and Kuo Junwei 's portrait, etc. At the same time, Prosecuter Lin was back to the crime scene and found there were many controversial points in this case. Therefore, a formal retrial request was filed in September. This is the second time in Taiwan's judicial history that prosecutors have filed for a retrial in a death penalty case. Lawyers for Hsieh Chih-Hung also proposed a retrial in October. As a matter of fact, citing the comprehensive judgment of the new evidence and reexamining the previous evidence, the High Court Tainan Branch, on March 14, 2019, believed that Hsieh Chih-Hung could be acquitted or have a more favorable judgment. Therefore, the court ruled that the case should be retried and immediately stopped the defendant's sentence.
Introduction
In 2000, Kuo Jun-wei and Hsieh Chih-Hung went out for a joyride. And  meet a Ms.Chen on the street outside a convenience store and invited her for a ride. Chen agreed, but they quarreled on the way.Kuo threatened the victim with a butterfly knife and requested sexual intercourse. The victim agreed. Kuo bring Chen home and had sexual intercourse with her. Later, Kuo, Hsieh and the victim later went out for a joyride. In the beginning, Chen said she wanted to go home, but later she changed her mind and said she wanted to find other boy. Kuo became impatient and stabbed the victim with his butterfly knife for 48 times.
And then, Mr.Chang, a farmer, witnessed the incident Ms. ChenChang, was also killed. The verdict concluded that Hsieh Chih-Hung had participated in murder, and stabbed Ms. Chen and Mr. Chang and sentenced both Kuo and Hsieh to death in 2011.
Grounds for verdict of innocent
First, Hsieh Chih-Hung made 3 transcripts at the police station. Under the first transcript, Hsieh Chih-Hung confessed to murder and sexual assault without the company by a lawyer. In the second transcript, Hsieh Chih-Hung confessed to murder but denied the sexual assault before meeting his lawyer. However, Hsieh Chih-Hung requested to make a new confession after meeting his lawyer. The third confession is made with the company of a lawyer, Hsieh Chih-Hung suddenly denied on participating in all committed crimes, and stated that he was innocent. Also, he claimed his former confession was admitted because of the torture by the police. Unfortunately, the records of the previous confession disappeared, therefore the situation of the first two transcripts cannot be restored. These unfavorable consequences should not be borne by the defendant.
Second, Kuo Jun-wei's confession about how the defendant killed Ms. Chen and Chang Qing-mu was inconsistent with the evidence. In addition, Hsieh Chih-Hung only spent one or two minutes with Ms. Chen alone all night. Although Kuo Jun-wei passed the polygraph test, the inconsistency with the objective evidence and the identification of antisocial personality disorder on Gio's side showed that Kuo Jun-wei's testimony against Hsieh Chih-Hung was not credible.
Third, the report stated that Kuo Jun-wei was incapable of killing Ms. Chen alone, and the depths of knife wounds were different. Number of perpetrators was inferred to be more than one, therefore, Hsieh Chih-Hung was found guilty. However, this kind of report could not be concluded to the above result.
Forth, there was no positive evidence in the whole case, such as identification of blood stains, to prove that Hsieh Chih-Hung was involved in the case.
Fifth, Kuo Jun-wei stated that he held the knife as self-defense, and the murder intention was temporarily initiated due to Ms. Chen's fickle attitudes. Therefore, Hsieh Chih-Hung was totally unaware that Kuo Jun-wei would kill Ms. Chen and Chang Qing-mu with a knife. Therefore, no matter Hsieh Chih-Hung took the knife for Kuo Jun-wei, or following Kuo Jun-wei's instructions to go to the intersection, there is no obvious evidence showing that Hsieh Chih-Hung intentionally help to kill.
Justice is served- press conference for Hsieh Chih-Hung 
After leaving the court, Hsieh Chih-Hung bowed to the courthouse to express his full gratitude. In his speech, he said he had received assistance from many people, especially his family and lawyer, Tu Xin-cheng. He thanked to the people supporting him for not giving up, and also thanked to the lawyers and many non-governmental  organizations for their assistance and support. He appreciated that under the support of all parties, he finally can get the result of acquittal. His mother also came to the scene to hear the judgment, and expressed her gratitude to the community. "I always believe that Hsieh Chih-Hung is innocent" said by his mother. After 7262 days, Hsieh Chih-Hung finally received the delayed justice.
https://twinnocenceproject.org/wp-content/uploads/SHM2_resized.jpg
733
1100
tip
https://twinnocenceproject.org/wp-content/uploads/logo.jpg
tip
2020-06-10 15:34:09
2020-06-10 15:34:09
The delayed justice: Hsieh Chih-Hung case